Anti TP53(R175H) Rabbit Polyclonal Antibody
价格: ¥4800/支
发布日期: 2023-06-08
更新日期: 2023-09-26
| | |
| --- | --- |
| 产地 | China |
| 品牌 | Chemstan |
| 货号 | CST21161 |
| 用途范围 | Research Grade |
| 纯度 | >95% by SDS-PAGE.% |
| 规格 | 100ug |
| 是否进口 | 否 |
Catalog Number
: CST21161
Gene Symbol
: TP53(R175H)
Description
: Anti TP53(R175H) Rabbit Polyclonal Antibody
Background
: p53 protein acts as a tumor suppressor in many tumor types and induces growth arrest or apoptosis depending on the physiological circumstances and cell type. Defects in TP53 are found in many types of cancers.
Immunogen
: A synthetic peptide from the internal region of p53 which includes the mutation of R175H, human origin.
Applications
: ELISA, WB, IHC, IP
Recommended Dilutions:
ELISA: 1:100-1:5000
WB: 1:100-1:2000
IHC: 1:50-1:100
Concentration
: 0.1 mg/ml
Host
: Rabbit
Format
: Liquid
Clonality
: Polyclonal
Purity
: Purified from serum
Preservative
: no
Constituents: PBS (without Mg2+ and Ca2+), pH 7.4, 150 mM NaCl, 50% glycerol
Species Reactivity
: Anti TP53(R175H) antibody recognizes TP53(R175H) of vertebrates.
Storage Conditions
: Store at -20°C. Avoid freeze / thaw cycles
Western blot
: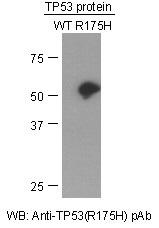 Western blot analysis of recombinant TP53(R175H) and wildtype p53 proteins. Purified His-tagged TP53(R175H) protein (Cat.#10207) and wild type p53 protein (Cat.#10202) were blotted with Anti TP53(R175H) rabbit antibody (Cat.# 21161).
Note:
For research use only .